Infrastructure & Manufacturing Facilities

RAKESH TRANSFORMER INDUSTRIES PVT. LTD,  is a leading Manufacturer of Power & Distribution Transformers. The company is registered with SSI and has the entire infrastructure to manufacture Transformers upto 5MVA & voltage class of 11KV, 22KV, 33KV. The manufacturing is in accordance with the strict quality assurance procedure which meets the all national standards.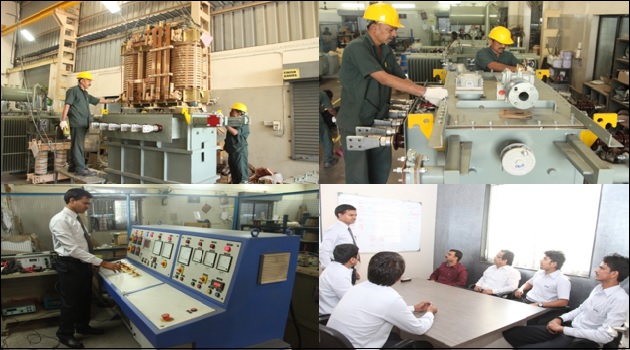 Infrastructure & Facility
Ours is a Well established SSI Unit having our own setup with regular workforce of 27 persons enjoying all the benefits including E.S.I., P.F. bonus etc. Our Unit was established in 1984.
Our Setup
Plot Area : 10000 S.FT Office Area: 800 S.FT 
Shed Area: 4000 S.FT Total Power: 30HP
We have team of in-house design engineers. We also have  tie-up with design consultants having rich experience of more than 35 years.
Our Manufacturing facilities include:
EOT crane 10 ton
Semi automatic winding machines – 2nos hv & 2nos lv
Oven 24kw – can accommodate upto 10mva transformer
High vacuum transformer oil filtration machine
Required tools & tackles etc,
Our Testing facilities include:
Power analyser  make:- yokogawa w-230 / w333e
Automatic ratio meter make :- eltel
Transformer test panel with dvdf & ssvt test facilities
Insulation resistnace tester :- make waco 2.5kv
Micro ohm meter :- make prestige make