A Package Substations is completely self-contained Solution for power distribution that includes outdoor duty enclosure, medium voltage switchgear, distribution transformer, low voltage panel, and accessories such as power factor improvement equipment, control and protection equipments, all providing a cost effective and efficient total installation.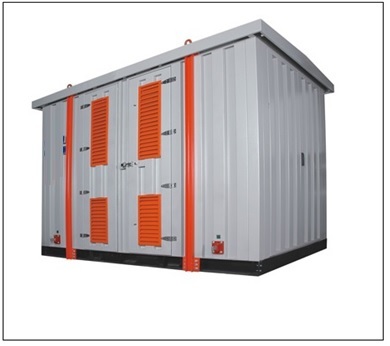 It finds extensive application in small industry, building and power distribution units.
Factory assembled weatherproof solution ready for placing into position and only incoming and outgoing cables need to be connected.
Rating
250KVA to 1600KVA Up to 11-36KV OFTC/OLTC
Rated voltage
3.3/6.6/11/20 KV
Optional degree of protection
IP23 for transformer compartment
IP 54 for LV/MV compartment
Transformer Type
Harmetically sealed oil cooled/
Cartesin dry type
Application Standard
IEC 62271-202
Construction
Galvanized steel sheet housing duly PP based powder coated
All external hardware of stainless and with EPDM steel reinforced Gasket
Type
Outdoor